RV
Recreational Vehicle Insurance Information
Unless you have a true recreational vehicle insurance package, you could be in for an unpleasant ordeal should you experience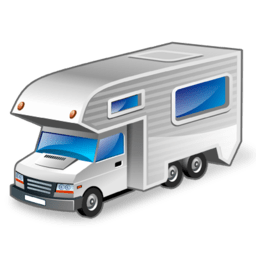 A motor home is an investment, just like a car or a house, so you should protect it with insurance. But a motor home has unique insurance for several very good reasons.a loss with your RV. Your auto and homeowner's policies may not cover such items as TV's, appliances, plumbing or accessories.
Without true Recreational Vehicle insurance, your emergency expenses incurred while traveling would undoubtedly come out of your own pocket. A typical travel trailer insurance policy from an auto carrier will include physical damage coverage only.
Our A + rated motorhome insurance and travel trailer insurance companies provide coverages far above and beyond the modest coverage provided by your auto insurance company.
Types of RV Coverage
……..
Motor Home

The motor home presents a unique situation because it's a motor vehicle, so it'll need all the insurance you'd get for a car. You need to be insured against collisions, accidents, injury, and other types of problems that can happen on the open road.
But a motor home is also where you live, whether on a permanent basis while wandering the open roads, or just for a short time while you're going to the big game or visiting a major landmark you've always wanted to visit. So you'll need to be insured against fire, theft, and other problems you may face as a homeowner!

Fifth Wheel Coverage
It can be easy to see a fifth-wheel trailer as just an attachment to your car.  After all, you hook it up to your trailer hitch and just hit the road!  But there are some important differences between a fifth-wheel trailer and just any car.
Similarly, your auto insurance may not cover everything you need.  For example, auto coverage doesn't usually have comprehensive coverage for if your fifth-wheel breaks down.  To an auto insurance company, a fifth-wheel is just a car, so they might not pay for a hotel room while you wait to have it fixed.
The best thing to do is let us find the specific insurance for your fifth-wheel trailer that will cover you in any situation you may run into on the open road.  Whether it's a break-down on the side of the road, or just the risks you run whenever you hit traffic, you'll feel safer knowing that whatever happens to you, you've got it covered.
Here are some of the myths and realities that you may want to consider when looking for an insurance policy for your fifth-wheel:

Myth: "My homeowners policy will cover all my personal property on the road."
Reality: Most auto policies don't include comprehensive coverage for personal belongings, and homeowner policies typically place strict limits on off-premises coverage and require a sizable deductible to be paid first. Our policies provide optional comprehensive coverage for personal belongings, and in most cases don't require a deductible.
Myth: "An insurance policy won't help me if my fifth-wheel breaks down."
Reality: Murphy Insurance offers several policies that INCLUDE towing and roadside assistance. If your fifth-wheel or tow vehicle is disabled anywhere in the US or Canada, you can call our carriers  toll-free TraveLine® number for towing or roadside help. Our policies also include high limits to cover the towing or servicing of larger travel trailers, and a "sign and drive" privilege that covers towing or roadside assistance expenses on the spot.
Many of our carriers offer outstanding emergency expense coverage. Unlike typical auto policies, our fifth-wheel policy pays for temporary housing or travel expenses to get you home if your fifth-wheel is damaged while you're on the road. We'll even pay to transport your damaged fifth-wheel to your home, a repair center, or a storage facility.
Let us give you "peace of mind" knowing that your covered.
Travel Trailer Coverage
It might surprise you to learn that your trailer might  not be covered under your auto insurance.  A travel trailer isn't just an accessory to your car; it's also a home.  So if you want to take to the open road, be sure that you're protected!
There is a wide variety of coverage available to the travel trailer owner, and what you buy should depend on your needs.  First, you should choose a specialized policy.  This policy can include certain coverage that an auto policy would not,  such as: total loss replacement, replacement of personal belongings, "fulltimer" liability, campsite liability, emergency expenses, towing coverage, coverage for fixtures such as awnings you might attach to your trailer later, and the ability to suspend coverage if your trailer is in storage.  There is also coverage similar to those you might find on your homeowner's insurance, such as fire and flood coverage, and coverage you would find on your auto insurance, such as collision.
"Total loss replacement" will cover buyers of new RVs and will replace the RV with a new model for the first five years of that model's life.  "Fulltimer" liability is for trailer owners who intend to use their trailer as a long-term living space.  Because a trailer is different from a "sticks and bricks" home, there are special insurance considerations that need to be taken into account.  After all, a house doesn't have to deal with bad road conditions!  A "fulltimer" policy will cover the trailer both when it is on the road and when it is parked at a campsite or other location.
Similarly, if you're going to be on a campsite for a long period of time, campsite liability will cover your special needs.  Emergency expenses will cover expenses incurred by any emergency you'll encounter on the road, and towing coverage will pay for the specialty towing that might be required.
Be sure to check your conditions closely.  A travel trailer will be subject to different conditions when it is on the road compared to when it is parked somewhere, and this could make the difference between a company paying out your policy and withholding it.
A "captured" insurance company — or in other words, the kind of agent that sells only one brand or company policy– will most likely not be able to get you the coverage that you need. Come in and sit down with us. We know RV Insurance and we will custom tailor the policy that best fits your needs.
Remember, RVing should always be safe for you and your family. With some preparation and asking the right questions, all the wonders of the road are waiting for you!
Do not leave out on your vacation or head out to the "Tailgating lot" without stopping by to talk to us.
We can bind you TODAY and your ready to ROLL this afternoon.